Emmett Till was murdered 65 years ago on August 28 1955 in Money, Mississippi. At only 14 years old, he was kidnapped, brutally tortured, lynched, and killed during a racially motivated hate crime that ultimately helped launch the modern-day civil rights movement. On August 30, 2019, Elijah McClain was taken off life support after being tortured by Aurora PD days before in Aurora, Colorado.
The past is not past​. The specter of Till's devastating crime remains ever-present through modern-day racially motivated murders. The burdens borne by families such as Emmett's (Thelma Wright Edwards and Deborah Watts),  Eli McClain, (Sheneen McClain), George Floyd's (Philonise and LaTonya Floyd) Ahmaud Arbery's (Wanda Cooper Jones and Marcus Arbery Sr.), Trayvon Martin's (Sybrina Fulton and Tracy Martin), Jordan Davis' (Lucy McBath and Ron Davis), Eric Garner's (Gwen Carr), Breonna Taylor's (Tamika Palmer) De Von Bailey and many others force them to speak up loudly, demand justice and take action when others won't.
On August 28th at 7 PM Mountain Time, Tune in and listen or watch as Destination Freedom Black Radio Days presents: "A Letter from Heaven to America from Emmett Till" by Donnie L. Betts.
"A Letter from Heaven to America from Emmett Till" a radio drama/podcast featuring music and sound effects. "Letter" has 14-year-old Owen Zitek as Till and Betty Hart as Mamie Till and   Brian Landis Folkins followed by a concert of 23 minutes for every year that Elijah McClain was on this planet.   Players include Monique Brooks Roberts, Lionel Young, Andrew Jacob Betts, Onyx Oats, Shelia Davis, MD Annastezhaa Mitchell-Curtis and Kari Clifton all are string players like Elijah McClain.
Funds raised from the concert will go directly to the McClain family. https://www.gofundme.com/f/elijah-mcclain
Radio, film, and theatre practitioner, donnie l. betts, is a black man who has been making a personal statement about the marginalization of black Americans for decades with the intentional lower-casing of his name. But in 2016, as protests over ongoing racial inequities in America spilled into stadiums, streets, and reservations across the country, the lower-cased betts was having a decidedly upper-case artistic year.
As America's simmering racial divide was being ripped open from the Dakotas to Dallas, betts was directing two culturally significant and achingly relevant productions for the Aurora Fox: The first local production of the seminal Native American tragedy Black Elk Speaks since it was premiered by the DCPA Theatre Company in 1994; and the first staging of the classic opera Porgy and Bess by any local theatre company in at least 20 years -- and certainly the first since it was reimagined as a more accessible Broadway musical by Diane Paulus and Suzan-Lori Parks in 2012.
Black Elk Speaks recounts with wrenching rawness the systematic genocide that wiped out an estimated 80 percent of the Native American population over a century. The Gershwins' Porgy and Bess tells the story of a reckless, drug-sniffing woman who turns to a disabled street-beggar for rescue from the clutches a violent and possessive lover in the oppressively racist slums of Charleston, SC.
No one but betts gets either of those productions to a Denver stage. No one but betts gets the level of cultural authenticity he achieved in Black Elk Speaks with a cast made up largely of indigenous actors. And no one but betts collects the deep cross-section of talent he has on display at the Aurora Fox in The Gershwins' Porgy and Bess through Jan. 1.
Our report from the set of the Aurora Fox's Black Elk Speaks
We're talking well-known local veterans like Leonard Barrett Jr. as the cripple Porgy, Dwayne Carrington as Crab Man and Michael Peters as the odious Crown, alongside the sensational second generation of Anna Maria High, Faith Goins-Simmons and Tyrell Rae, who all three continue to be lightning on any stage. All of this matters not without a Bess who can off the equal challenges of properly singing – and playing the wounded Bess. Enter the heart-breaking and ear-seducing Tracy Camp from the San Francisco Opera.
Porgy and Bess, newly opened in these final breaths of 2016, will certainly go down as one of the most significant achievements of the Colorado theatre season. This production has it all – a rollicking onstage band led by Jodel Charles; an evocative and fluid slum set from Jen Orf; masterful (as always) work from designers Linda Morken (costumes), Shannon McKinney (lighting), and El Armstrong (sound). And perhaps most seductively: It has living, pulsating, innovative choreography from Laurence Curry. It's a dream team.
"This is a production that must be seen -- for the sheer scope of its ambition, among other things," wrote Westword's Juliet Wittman. "Consider what it took for director donnie l. betts to assemble his terrific small orchestra along with a large cast of tuneful and talented African-American actors, and to meld voices that range from operatic to musical theater into a harmonious, soul-swelling whole."
No one but betts, whose roots in the Denver theatre community go back to the very beginnings of the Denver Center. When the DCPA Theatre Company was created in 1979, betts was the first local actor hired, working alongside the likes of Tyne Daly, Delroy Lindo and Tandy Cronyn. That ensemble would later be joined by Mercedes Ruehl, Annette Bening and many other future stars.
betts was a DCPA regular for nine intermittent seasons. But of all the shows he performed in, it perhaps was one he did not appear in -- Black Elk Speaks -- that would most impact his future life. Betts was performing in another play on a nearby Denver Center stage nearby, but he would watch Black Elk Speaks from the wings every chance he got. Twenty-two years later, he brought it back to life at the Aurora Fox.
It's been a long road for betts preserving the culture and voice of the disenfranchised, underrepresented and underserved. But as the protagonist of Black Elk Speaks says: "The longest journey is to the heart."
Donnie l. Betts at a Glance
Born in Dekalb, Texas, the 12th Child of 12
Attended Angelo State in San Angelo, Texas, on a Football Scholarship and Later Metropolitan State College in Denver and the Yale School of Drama
Founding Member of the DCPA Theatre Company, City State Ensemble, and the Denver Black Arts Company
Performed on Broadway in The Gospel at Colonus, 1988
Founded No Credits Productions, LLC, a Film and Video Production Company That Launched His Monthly Destination Freedom Radio Series for KUVO in May 1998,
Moving to KGNU in 2001
Occasionally Appeared in the Perry Mason Movies That Were Filmed in Denver in the Mid-1990s
Directed More Than 30 Theatrical Productions in the Denver Area
ABOUT THE TRUE WEST AWARDS
The True West Awards, now in their 16th year, began as the Denver Post Ovation Awards in 2001. DCPA Senior Arts Journalist John Moore -- along with additional voices from around the state -- celebrate the entire local theatre community by recognizing 30 achievements from 2016 over 30 days, without categories or nominations. Moore was named one of the 12 most influential theater critics in the US by American Theatre Magazine in 2011. He has since taken a groundbreaking position as the Denver Center's Senior Arts Journalist. His daily coverage of the DCPA and the Colorado theatre community can be found at MyDenverCenter.org
Paws
By Sonya Green
If you're a dog owner, scooping up poop comes with the territory. Unfortunately, not all owners are created equal. There are those that shriek away from their responsibilities giving poop picking parents a bad name!
What if your dog's poop was worth money? What if every time a pet owner did the right thing the life of another furry friend was spared? Would pet owners be more inclined to remember to dispose of the smelly stuff properly? Donnie Betts the creator sure hope so. It's why one half of the duo, Donnie created Paws Here, an aesthetically pleasing piece of art that serves as a functional, eco-friendly trash dispenser that gives back to the communities that choose to adopt and display it. A percentage of all sales proceeds are contributed to local athletic, arts programs, and to Humane Societies. Made in the USA.
Donnie isn't a pet owner. So why would he create something for pets? "It was very simple," Donnie said. "I am a big-time walker who got tired of always stepping over dog poop on trails. I also didn't like passing by the smelly trash cans with no lids that were overflowing with dog poop bags."
Donnie decided that there had to be a way to take care of people, animals, and nature. It was then that Paws Here came to life as art serving nature. On the outside, it's a beautiful, sleek, clean piece of art that looks like it should be prominently displayed in a museum. Upon further inspection, you can see that the custom made trash dispenser is made of high quality, brushed stainless steel. It stands 48 inches tall. Some of the materials used to create functional art are recyclable. Made in the USA.
Pull-on the tongue and you'll get a biodegradable bag. Lift up the tail, you'll find a trash can with a sealed top and a latch. The best part, after you dispose of the poop you can wet your hands and lather up to clean up immediately. City Dog Designs is constantly looking for ways to improve their product. The two men are currently looking for partners and investors to add items such as a doggie water bowl and instant hand sanitizer.
Reaction from dog owners, pets, and the general public to Paws Here has been favorable. Donnie is now working on creating a design for playgrounds using hard recyclable plastic instead of steel. He is also working on design requests for other animals. A percentage of all sales proceeds are contributed to local athletic, arts programs, and to Humane Societies. Made in the USA.
To learn more about Paws Here Doggie Waste Station products and pricing, call (720) 318-9895.
Paws Here Is Trademark and Copyright Protected.
Reviews
Dallas, The direction of Donnie l. Betts works well in the intimate/comfortable space of the Muse. Betts has an extensive theater film background and a great visual eye.
Slut Energy Theory is a story of sexual freedom found the hard way.
Philadelphia Weekly
Betts tracks Brown's many faces, from the performer who wowed Today show hosts, to the social activist who persuaded Chicago gang members to join one of his routines to get them off the street.
Denver Post
K2 is a daring evening of theater for the Aurora Fox, not because it's a new play (it premiered in 1982) or because the approach is experimental, but because it asks a lot of both actors and audience. We have to be willing to give ourselves over to a bleak and terrifying place and the actors, working in a cramped space, have to give their emotional all. Fortunately, they're up to it. Jude Moran is a passionate, sometimes blubbery, sometimes amazingly brave Taylor, while William Hahn gives Harold dignity, strength and nuance. Director Betts keeps the rhythms between the right and true.
In 2008, eleven climbers were killed on K2. One of them, 61-year-old Hugues d'Aubarède, wrote this the night before he died: "I would like everyone to be able to contemplate this ocean of mountains and glaciers. I am suffering from it, but it's too beautiful. The night will be long but beautiful."
The Gazette
The mission of Martin Luther King Jr. comes to life in Colorado Springs.
De'Von Bailey's death adds intensity to Colorado Springs theater's new show.
---
Destination Freedom: Black Radio Days Honors Emmett Till and Elijah McClain
JON SOLOMON | AUGUST 27, 2020 | 5:57 AM
AA
While actor and documentary filmmaker Donnie l. Betts was an original member of the DCPA Theatre Company, City Stage Ensemble, and the Denver Black Arts Company, and appeared on Broadway in The Gospel at Colonus, he says radio drama is his favorite format.
"It lets you use your imagination," Betts says. "You can visualize what you want to visualize, and that's always fascinated me."
More than two decades ago, he got the rights to scripts written by Radio Hall of Fame member Richard Durham for Destination Freedom, the radio drama that was originally produced in Chicago between 1948 and 1950. Using the moniker Destination Freedom: Black Radio Days, Betts updated original scripts to make them more contemporary, while he and other writers penned scripts to perform at various venues around Denver. Two years ago, Betts started producing Destination Freedom: Black Radio Days in podcast form.
RELATED STORIES
• Donnie l. Betts Leads Destination Freedom Into the 21st Century
• Dazzle Hosts In-Person Conversations About Race This Week
• 100 Colorado Creatives: Donnie l. Betts
Last year, Betts reached out to the family of Emmitt Till, the fourteen-year-old Black boy who was tortured and killed in Money, Mississippi, in 1955 in a racially motivated hate crime that ultimately helped launch the Civil Rights movement. He asked them about creating a script based on Till for Destination Freedom: Black Radio Days. After getting the green light from Till's family, Betts wrote A Letter From Heaven to America From Emmett Till, which will be performed live at Dazzle and live-streamed on Friday, August 28, the 65th anniversary of Till's death.
"Emmett never had a chance to tell his story himself because he was killed," Betts says. "So now you have witnesses to tell the truth as they knew it. Some kind of embellish it to make themselves look better, and the true killers never really said anything. They confessed to the killing, but they never really said what happened."
A Letter From Heaven to America From Emmett Till is written from the perspective of Till, who will be portrayed by fourteen-year-old actor Owen Zitek, and explores how Till would address the United States from Heaven.
"He's looking down from Heaven these past 65 years," Betts says. "What's been happening in America that's even different from the time that he was killed? And so he's calling on America to change, but he's also telling America, 'This is what you've been doing. And we've been watching you. I've been watching you. MLK has been watching you. [Black civil-rights and human-rights activist] Ella Baker has been watching you. All these other people who've been watching you are looking for you to change.' This is what I'm saying. This is what Emmett is saying in his letter."
Following the performance of A Letter From Heaven to America From Emmett Till, there will be a concert honoring Elijah McClain, who died last August after Aurora police officers restrained him in a chokehold.
The concert, which will be 23 minutes long (a minute for every year McClain lived), will include string players, like McClain, including Monique Brooks Roberts and Lionel Young, Andrew Jacob Betts, Onxy Oats, Jeff Hughes, Annastezhaa Mitchell-Curtis and Kari Clifton. Funds raised from the concert will go directly to the McClain family, and donations can also be made here.
While more than six decades separate the deaths of Till and McClain, betts says that there are many parallels between the two.
"Both of them were young, innocent and happy," betts says. "Physically, they were very small and were attacked by grown men and tortured. And their deaths sparked a series of protest movements, call for justice — not only for them, but for a lot of other people, too. This current movement was sparked by the death of George Floyd, but if you look at the groundswell of activities for Elijah McClain, it's unparalleled."
Destination Freedom: Black Radio Days takes place at 7 p.m. Friday, August 28, at Dazzle, at 1512 Curtis Street. Seating will be limited to 50 people and masks will be required. Tickets are $20 and available at the Dazzle website. The event will be live-streamed (with a $10 suggested donation) via Dazzle's YouTube and Facebook pages as well as at No Credits Productions LLC.
Jon Solomon writes about music and nightlife for Westword, where he's been the Clubs Editor since 2006
Contact us if you're interested in learning more about donnie l. betts' films, videos, plays, and radio shows. We proudly serve the entire Front Range of Colorado and beyond.
THEATER REVIEW
In "Flyin' West," four Black women hold fast to their chunk of Kansas prairie
By Lisa Kennedy
Special to The Denver Post
Just how vulnerable the pursuit of happiness could be for Blacks during Reconstruction is on aching and wry display in Pearl Cleage's "Flyin' West." So, too, is the tenacity of the liberated.
The play, a welcome collaboration between Firehouse Theater and Aurora's 5280 Artist Co-Op, is getting an engaging production at the John Hand Theater through May 7.
At the outset of the play, a bundled figure toting a rifle and wearing a brimmed hat and heavy coat strides into a compact homestead on the outskirts of Nicodemus, Kan. That powerful person turns out to be Sophie (Adrienne Martin-Fullwood).
Sophie, along with Miss Leah (Latifah Johnson) and Fannie (Kenya Fashaw), have settled a broad swath of land on the outskirts of Nicodemus, due in part to the Homestead Act.
There is a lot of beauty in this drama — directed by donnie l. betts — and no small measure of trauma.
Fannie and Sophie's youngest sister, Minnie (Yasmine Emani Hunter), arrives by train with husband Frank (Abid Hassan) wearing a hat tilted to cover her bruised face.
That she's been struck riles her sisters and Miss Leah. That Frank is the sort of man who would commit that act and exert control over Minnie makes the fact that Sophie plans on handing Minnie a deed to a third
of the land a surprisingly effective cliffhanger. Will Frank somehow purloin Minnie's deed? Will he sell her portion of the land to a cadre of "white gentlemen" he made friends with on the train? Will Minnie see the light and stand up to him? And why's he so dang evil?
"Flyin' West" pits two biracial characters — or, in the parlance of the time and the play, "mulattos" — against each other. Literally and figuratively, Sophie and Frank are nemeses, to be sure.
Frank may have his reasons for being so bitter, so dark — chiefly, his being so light — but his smarminess and violence quickly put an end to audience empathy. He's a villain in the twirl-of-mustache sense; the root of his moral affliction is his status as a bastard son of a white enslaver.
The 1995 play tangles with colorism in ways that remain compelling but also feel shaped by the racial identity quandaries circa its original production.
As Sophie, Martin-Fullwood commands. Besides being an admirable frontierswoman, she is also an activist. Through much of the play, she is at work on an address she intends to deliver to her fellow Black citizens about not selling their property to speculators.
Don Randle completes the able and attuned ensemble as Wil, a kindly aw-shuckster who spent time in Mexico and has set his cowboy hat on marrying Fannie.
Johnson's portrayal of pipe-smoking Miss Leah reaches a satisfying apex when she begins telling a story of a young, enslaved woman whose apple pie was a source of delight to her enslaver. (At Sunday's matinee, the audience acknowledged how much they appreciated the show and its skilled ensemble and how much Frank had incensed them, showering Hassan's curtain call with boos and applause.)
Betts cleverly teases the two meanings of melodrama with "Flyin' West."
There is the heightened version, in which on-stage brutality and outsized emotion figure. (Frank is downright dastardly; our heroines' fates hang in the balance.) There is also the original sense of "melodrama" as a tale told with music. The sisters beautifully belt out the hymn "Walk on By Faith" (arranged by Larea Edwards, who composed the play's original music); Minnie wails her lament, "In the Dark," written by Hunter.
The director also knows his way around the story of Black towns in the West. His short documentary, "Dearfield: The Road Less Traveled" (which aired on Rocky Mountain PBS), recounts the history of the long-gone Black settlement in Weld County.
Nicodemus, the last remaining Black settlement in the West, will celebrate its 144th Homecoming Emancipation Celebration in late July.
Lisa Kennedy: lkennedywriter@gmail.com
THEATER from page C1 to C3
IF YOU GO
"Flyin' West." Written by Pearl Cleage. Directed by Donnie l. Betts. Featuring Kenya Fashaw, Abid Hassan, Latifah Johnson, Adrienne Martin-Fullwood, Don Randle and YasmineEmani Hunter. At the John Hand Theater in Lowry, 7653 E. 1st Place, through May 7. For tickets and info, go to firehousetheatercompany.com.
THE HOLLY: a documentary feature (TRT: 102 mins); Genre: True Crime, Social Justice
Rights: All rights available, including to the main character whose life rights are with the award-winning book, The Holly: Five Bullets, One Gun and the Struggle to Save an American The neighborhood was published in 2021 by Farrar, Straus, and Giroux.
Executive Producers: Academy Award-winner Adam McKay (DON'T LOOK UP, THE BIG SHORT); Sundance Fellow Damon Davis (WHOSE STREETS); historian, curator, and creative director Lana Garland; award-winning DP Tony Hardmon (CRIPS AND BLOODS: MADE IN AMERICA).
Producers: Donnie l. Betts (MUSIC IS MY LIFE; POLITICS MY MISTRESS); Dia Sokol Savage (FINDING KENDRICK JOHNSON); Sarah Dowland (ZERO DAYS; WE STEAL SECRETS).
Director: Award-winning journalist Julian Rubinstein (Ballad of the Whiskey Robber; The Holly). For the director's statement, see: www.thehollyfilm.com
Cast: Terrance Roberts, a former gang member turned activist; co-leader of the Justice for Elijah McClain Movement; current candidate for mayor of Denver.
"Civil Rights Activist Terrance Roberts will run for Mayor of Denver."
https://denverite.com/2022/04/07/civil-rights-activist-and-former-gang-member-terrance-roberts-will-run-for-denver-mayor/
Film and Book Websites: www.thehollyfilm.com and www.thehollybook.com
"I was completely blown away after seeing the rough cut of The Holly. From income inequality, race, gun violence, and corruption, this film is the macro of America in the micro."—Adam McKay to Deadline.com
"Roberts is running for Denver mayor, giving "The Holly" the feel of an up-to-the-minute civic primer as much as riveting, true-life drama."—John Wenzel, Denver Post
"It is, in its way, Denver's very own version of "Bonfire of the Vanities," combining elements of economic oppression and gentrification against institutional power, racism, police and government corruption, and a reformed anti-hero who is now running to be the next mayor of Denver."—John Moore, Denver Gazette
"A riveting look at metro policing, gang violence and politics."—Aurora Sentinel
Based on eight years of reporting inside a gang community, THE HOLLY investigates a gang shooting case in Denver that was covered by the New York Times and voluminously by the local media to discover an "explosive" (Axios) story that changed a historic neighborhood.
Winner of the Audience Choice Award for Best Documentary at 2022 Telluride
Mountainfilm, film's premiere
This film contains numerous on-camera revelations that are poised to become news stories and hold keys to understanding the rise in youth and gang violence across the country:
Roberts was working for America's premiere anti-gang and anti-gun program, Project Safe Neighborhoods. The film has intimate access to the "anti-gang" workers who replace Roberts in the federal effort. They prove themselves not only to be active gang members, but one is caught selling drugs out of the office—and turns out to be an integral part of the plot to attack Roberts, as well as an informant working for law enforcement.
The film uncovers in verite that the anonymous sources police—and the media—relied on to prosecute the case against Roberts were gang informants who were part of the plot to attack Roberts.
 The corruption in this high profile and controversial federal program—including misconduct and misuse of gang informants and coverups of critical evidence—is an "explosive" (Axios) news story, backed up by documents and on-camera interviews. It is sure to gain headlines.
Film climaxes with a dramatic trial featuring Roberts facing life in prison.
THE HOLLY shows the relationship between gentrification and violence. Roberts was the face of the high profile redevelopment of his historic neighborhood. He was attacked after he became outspoken about what he saw as racist tactics by white developers.
At a time when youth and gang violence is sharply rising and President Biden is pledging $10 billion for community violence prevention efforts, THE HOLLY holds a key to understanding what is going wrong and how to stop it.
At a time when Black activists say they are being targeted, THE HOLLY features the most dramatic on-camera example to date.
PARTNERS AND FUNDERS: Doc Society, Catapult Film Fund, The Edit Center, IFP, Colorado Film and TV office, Denver Film Society, University of Denver, Hyperobject Industries.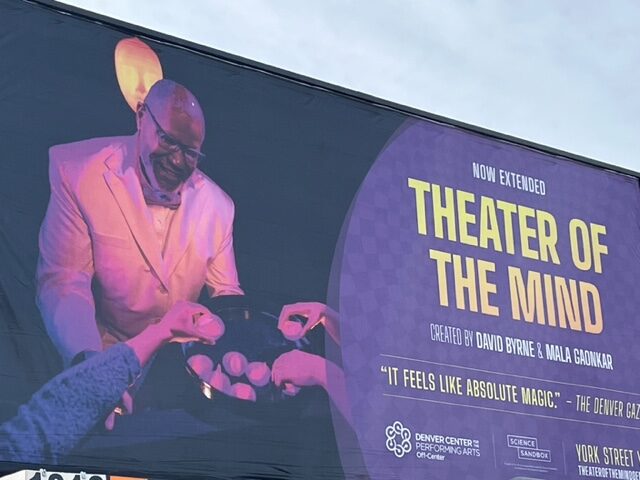 2022 TRUE WEST AWARDS: DAY 2
Flyin' high and 'Flyin' West – a collaboration to remember
Firehouse Theater Company and 5280 Artist Co-op join forces to celebrate Black women homesteaders.
John Moore, Senior Arts Journalist, john.moore@denvergazette.com
Often, some of the best local theater productions of any given year only come about when two companies with distinct resources and audiences join forces. Perhaps the greatest example of the past 20 years was in 2007, when BDT Stage joined with the late Shadow Theatre Company to produce a "Ragtime" for the ages.
This year brought a beautiful but bittersweet collaboration between 5280 Artist Co-op and Firehouse Theater Company. Bittersweet because 5280, which like Shadow, was founded to tell human stories of the Black experience, has since gone into dormancy. But it went out partnering with Firehouse on a riveting staging of Pearl Cleage's "Flyin' West" that will be long-remembered.
Firehouse has its own melancholy roots. The indefatigable Helen Hand has been singlehandedly willing the company forward since the 2004 murder of her brother, Colorado Free University founder John Hand.
"Flyin' West" takes place as many former slaves left the South are taking advantage of The Homestead Act to build new lives for their families out West. The story follows four women who lay claim to land in an all-Black town in Kansas that's not unlike Colorado's own Deerfield – and then face threats from outside and within.
Sign Up For Free: Denver Gazette Outdoors
Sign Up
View all of our newsletters.
"There were 150 all-Black towns after Reconstruction," said the play's intentionally lower-cased director, donnie l. betts, who was nominated for an Emmy Award for his own documentary about Dearfield called "The Road Less Traveled." (He also was the first local actor hired when the Denver Center Theatre Company was created back in 1979).
"'Flyin' West is really about the strength and the tenacity of these Black women who helped to establish these all-Black towns," said betts. "I wanted to show people how Blacks established these places, and how strong Black tenacity and entrepreneurship were. Even before they were able to be free, that attitude and spirit were always there."
His cast consisted of Kenya Mahogany Fashaw, Adrienne Martin-Fullwood, Latifah Johnson, Don Randle, Hunter Yasmine and Abid Hassan, all of whom "brought something beautiful and unique to the table," said betts.
"There is a lot of beauty in this drama — and no small measure of trauma," wrote longtime theater critic Lisa Kennedy.
A scene from the co-production of 'Flyin West' by Firehouse Theater Company and 5280 Artist Co-op