Films in Production in Colorado
Paws Here: Art Serving Nature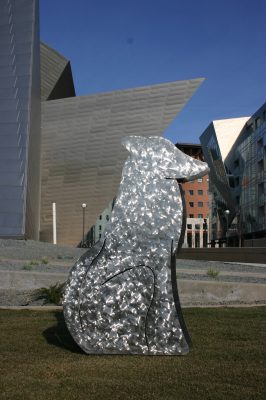 BRIEF DESCRIPTION – Paws Here is a new, efficient, and effective way to dispose of dog waste. The station contains a disposable baggie for dog waste to be deposited right at the Doggie Station, thus eliminating the need for carrying unsightly plastic bags with you as you walk your pet. Paws Here contain a waste container that closes and does not open to the public — thus eliminating the odor that you find with open trash containers. It has a hand sanitizer station as well if ordered. Doggie Station would also eliminate those clumsy and unsightly plastic containers nailed to various poles or those green containers and other structures in parks, walking trails, and developments. Paws Here will reflect your unique neighborhood. We will donate 1% of sales to your local community Humane Society, Arts groups, or youth sports teams.
Join The Central Park Community and give Paws Here a home.
Made of Environmentally Friendly and Recycled Materials
Will Last 20 Years without Any Rust (Stainless Steel)
Pull-on the tongue, and you'll get a biodegradable bag. Lift up or pull down the tail, you'll find a trash can with a sealed top and a latch.
The Why Women of Power Trailer 
Contact us for details about our Paws Here doggie station. We proudly serve the entire Front Range of Colorado and beyond.